back to menu


Computer Generated Random Number Collage 1, 65 x 50 cm, 1969
Private collection New York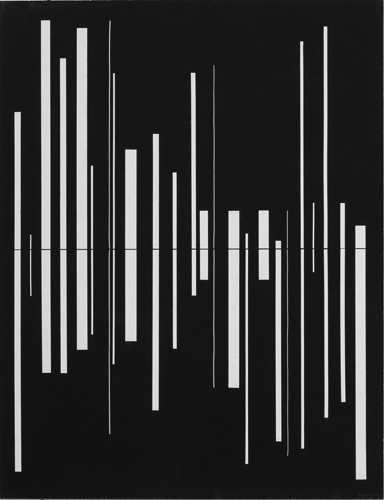 Computer Generated Random Number Collage 2, 65 x 50 cm, 1969
Private collection New York






© 1969 by Manfred Mohr


---

About the algorithm:
Around a central line, random numbers determine the position, height, width, and existence of the rectangular white lines. This is a visual music collage, bringing to mind rhythm and frequencies.

This is one of my earliest programs. Since I did not yet have a plotter, I realized these drawings by pasting white rectangular lines on black paper according to the random numbers generated.

These drawings are related to the wooden sculpture built from computer generated random numbers 1969

On further analyse, these drawings are also related to my 1970 algorithmic drawing, P-52, "quark lines", wrt to the reflection around the horizontal zero line and varying random heights of the points.