back to menu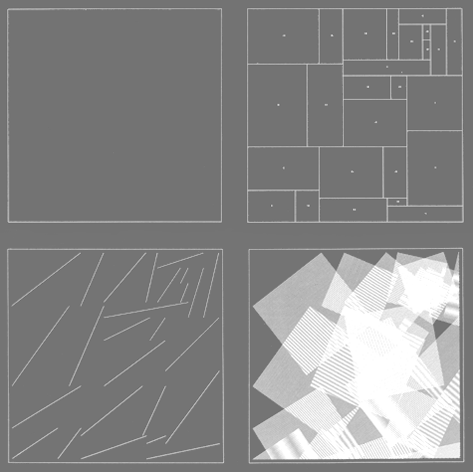 P-103, "visual pythagoras", series of four plotter drawings, ink on paper, (4 x) 40cm x 40cm, 1972




© 1972 by Manfred Mohr


---

About the algorithm:
A series of 4 drawings:
1) Defines a square space
2) Divides the space into a given number of rectangles
3) Draws 1 diagonal from each rectangle
4) Creates a square over each diagonal filled with parallel lines

First published:
L'Humidité, Nr. 14/15, Paris, France, Mai-Juin, 1973
Listed in Contact II, Sigma 9, Bordeaux, France, 19 Nov - 18 Dec, 1973 PDF
Catalog Manfred Mohr, "Drawings Dessins Zeichnungen Dibujos", Galerie Weiller, Paris and Galerie Gilles Gheerbrant, Montreal, 1974

About the work:
A work from this program was shown in the exhibition
Contact II, Sigma9, Bordeaux, France, 19 Nov - 18 Dec, 1973


---
Program with similar algorithm, 1971: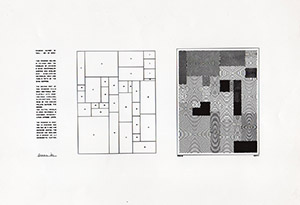 Click to enlarge

© 1971 by Manfred Mohr

Photo of "Null Set of Gaps", P90(?), 1971, series of two plotter drawings with explicative text.
1) The space is divided into non-overlapping numbered rectangles (as above).
2) Each rectangle contains concentric circles with a random radius, clipped by the rectangle.