back to menu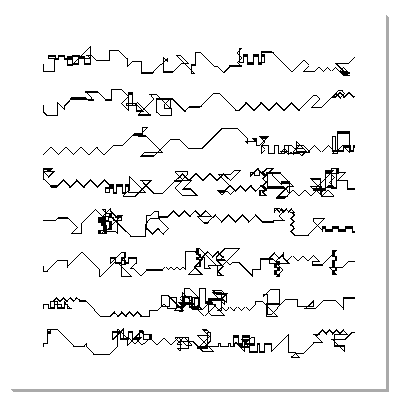 P-021/A + B, "band-structure", computer generated algorithmic plotter drawings, ink/paper, 1969, 50cm x 50cm




© 1969 by Manfred Mohr


---

About the algorithm:
The elements are horizontal, vertical, 45 degree lines, square waves, zig-zags, and have probabilities for line widths and lengths. The algorithm places elements in a horizontal direction and has a high probability to move from left to right and a limited probability to backtrack.
The original idea of this algorithm was to create a visual musical score which defies the progression in time by occasionally turning back on itself. Thus at the same time an abstract text is created.

In the 1971 catalog, "random walk" programs P-10 and P-18 are called studies for this program.

Significance of this algorithm to me:
The first algorithm I wrote which creates a visual abstract text.

The last of several algorithms I wrote at the University of Paris, Vincennes (Paris XII), Groupe d'Art and Informatique, 1969 / 1970.
Since the University only had a small SDS computer and no output device, I plotted the drawing by hand from the output data. It took 20 hours to draw one drawing. I understood that this was not practical.

The first algorithm I plotted on an ink pen flat-bed plotter (I had previously plotted an earlier algorithm on a light pen plotter in 1969). I used a high-resolution Zuse pen plotter along with an IBM computer at the University of Darmstadt in early Spring 1970.

The first algorithm I ran and plotted after I was given access to Meteorologie Nationale, Paris, June 1970. There I used a Benson high-resolution flatbed pen plotter and a CDC computer. I plotted many drawings from this algorithm at that time. I used this facility and plotter for the next 13 years.

Two drawings from this algorithm were in my historic exhibition and are in its catalog: Manfred Mohr, Computer Graphics, Une esthétique programée, ARC - Musée d'Art Moderne, Paris, 1971 (catalog and show)
A drawing from this algorithm was made into a print for the portfolio "Scratch Code" (a series of 8 prints), Edition Media 1976, which show some of my linear writing-like algorithms 1970 - 1975.
The first algorithm I ran and plotted when I set up my own computer center (computer and plotter), after moving full time to New York, 1983.
My newly acquired plotter was a frame with an open bottom and could be moved around to plot over larger areas. Thus in 1983, I started to plot very large drawings on canvas from this and other algorithms.


First published:
Festival Arts Plastique, Montargis, France, Catalog, July 14 - Aug 10, 1970
Catalog (2 drawings) Manfred Mohr, "Computer Graphics, Une esthétique programée", ARC - Musée d'Art Moderne, Paris, 1971 (catalog and show)

About the work:
Drawings from this algorithm are in the following public collections:
Whitney Museum of American Art, New York; Museum Abteiberg Sammlung Etzold Mönchengladbach Germany; Anne + Michael Spalter Digital Art Collection Providence Rhode Island
A print from this program, part of the portfolio "Scratch Code" (1970 - 1975) 1976, is in many public and private collections.
Drawings from this algorithm were in many museum shows, including:
My historic one person show at ARC - Musée d'Art Moderne, Paris, 1971; My first retrospective show "Fractured Symmetry", Wilhelm-Hack-Museum, Ludwigshafen, Germany, 1987; The group show "Programmed", Whitney Museum of American Art, New York, 2019